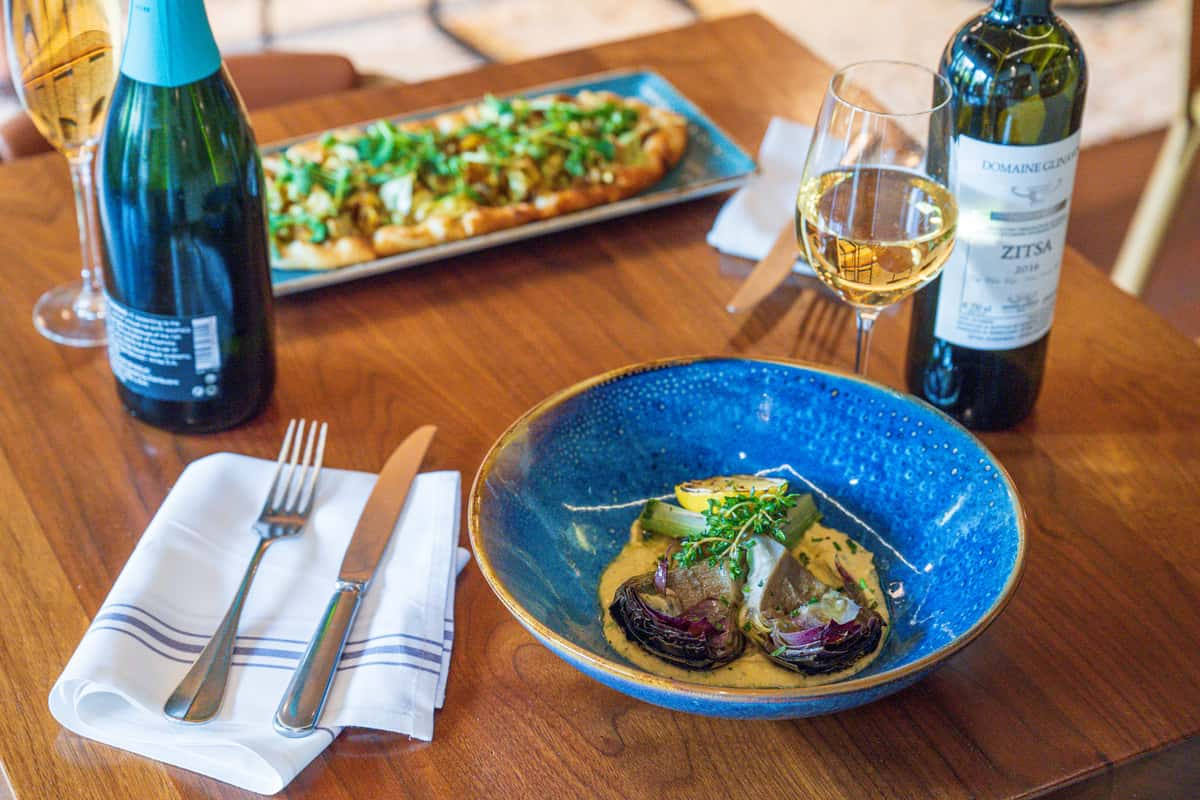 Meso's Artichoke Festival 2023: Celebrating the Earthy Delights
Meso's Artichoke Festival 2023: Celebrating the Earthy Delights
Step into a world of culinary delight as Meso Modern Mediterranean presents its much-anticipated 2023 Artichoke Festival. From June 5th to June 11th, we invite you to indulge in the flavors of this remarkable vegetable at the peak of its season. Our Chef has curated a menu featuring his favorite artichoke preparations, designed to capture the full essence of this un-bloomed flower. Join us at Meso as we pay homage to the artichoke's Mediterranean heritage and immerse ourselves in its earthy, nutty, and exceptional flavors. Accompanied by our sommelier's hand-picked Greek wine pairings, this festival promises to be an unforgettable celebration of culinary craftsmanship.
The Artichoke, a Rich Culinary Tradition!
The artichoke holds a special place in Mediterranean cuisine, with its origins tracing back to the Mediterranean and the Canary Islands. In Greek villages like Komi on the island of Tinos, festivals are held during the spring and summer to celebrate the artichoke harvest. These festivals, filled with locals and visitors, offer pick-your-own adventures and an array of Chef's delicacies. It's worth mentioning that these celebrations often coincide with the renowned Artichoke Festival in Monterey, known as the "Artichoke Capital of the World," which celebrates the Castroville artichoke harvest. At Meso, we bring you the essence of these festivals and invite you to savor the incredible artichoke flavors.
Our Artichoke Festival menu additions have been thoughtfully crafted to showcase the artichoke's versatility and unique qualities. Let's explore the mouthwatering dishes that await you at Meso:
Our Artichoke-Inspired Bites:
Crispy Fried Artichoke Flatbread: Indulge in the flavors of our Crispy Fried Artichoke Flatbread, topped with spicy tahini and melted mozzarella cheese. This delectable combination is a perfect harmony of textures and flavors. Pair it with Domaine Spiropoulos' Sparkling "Ode Panos" from Mantinia, Organic Vineyards, Macedonia, Greece '19, for a delightful complement to the dish.
Scattini Farms Artichoke Confit: Experience the richness of our Scattini Farms Artichoke Confit served with a flavorful herbed chickpea purée and charred lemon. This dish offers a balance of earthy and tangy flavors that will captivate your taste buds. Accompany it with a glass of Domaine Glinavos from Zitsa, Greece '16, and let the flavors intertwine.
Our Special Libation:
Sip on our signature cocktail, the "All Choked Up," created exclusively for the festival. This tantalizing blend of cynar, rum, St. Germain, lime, and mint will take your taste buds on a journey of refreshment and complexity.
Meso's Artichoke Festival menu additions are available for both lunch and dinner, alongside our regular menus. Pair your dishes with our sommelier's selection of Greek wines for a truly authentic and elevated dining experience.
Immerse yourself in the enchanting flavors of the artichoke at Meso's 2023 Artichoke Festival. Celebrate this remarkable vegetable's rich culinary tradition rooted in the Mediterranean and indulge in our Chef's favorite preparations. Whether you're enjoying the Crispy Fried Artichoke Flatbread or savoring the Scattini Farms Artichoke Confit, each bite will transport you to the sun-kissed shores of the Mediterranean. Raise a glass and toast to the delicious artichoke with us!