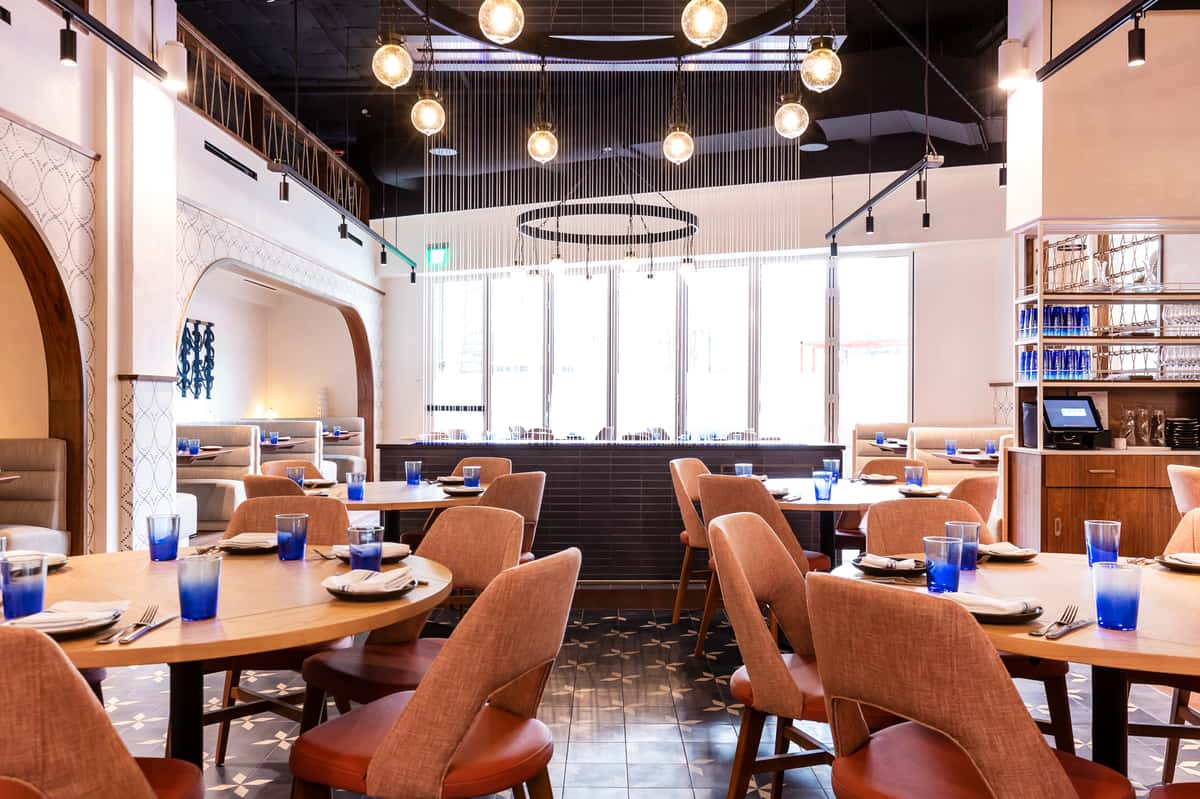 Delicious Mediterranean Flavors On-the-Go: Explore Meso's Lunch To-Go Offerings and Tock Party Packages
Delicious Mediterranean Flavors On-the-Go: Explore Meso's Lunch To-Go Offerings and Tock Party Packages
Craving the vibrant flavors of the Mediterranean? Look no further than Meso, a culinary haven that transports your taste buds to sun-soaked shores and ancient spice markets. Whether you're seeking a quick lunch to go or planning a memorable gathering with friends, we have you covered. With an array of delectable small plates, satisfying lunch plates, and tantalizing pitas, your Mediterranean culinary adventure awaits.
To-Go and Pickup Ordering Made Easy:
At Meso, we understand the importance of convenience. That's why we work with a number of delivery services to help you satisfy your cravings, wherever you are. You can now find us on Doordash, Uber Eats, GrubHub and more. Simply visit our "Order Online" page here to explore the enticing menu options that await you.
Additionally, if you're spending the day on Santana Row or live in the nearby area, we now offering online order store pickup. Your online order will be waiting for you at the front for easy grab-and-go pickup, so you can skip the lines and be on your way faster than ever.
Small Plates: Bursting with Flavor
Start your culinary journey with our enticing small plates. Here's a sneak peek at some of the irresistible options:
1. Kufta Meatballs: Succulent lamb and beef meatballs paired with baby spinach, pomegranate, pine nuts, and tahini, creating a harmonious blend of textures and flavors.
2. Crispy Brussels Sprouts: Savor the crispiness of Brussels sprouts combined with scallions and feta, offering a delightful contrast of textures.
3. Harissa Seared Octopus: Indulge in perfectly seared octopus, accompanied by confit potatoes, crispy Tuscan kale, and herbed labneh, a creamy and tangy delight.
Lunch Plates: A Satisfying Feast
Meso's lunch plates are crafted to satisfy your midday cravings. Dive into these enticing options:
1. Chicken Kebab: Enjoy yogurt and garlic-marinated chicken, served with fragrant basmati rice and a side of creamy hummus, creating a perfectly balanced meal.
2. Seared Halibut: Delight in the flavors of Iacopi Farms gigante beans, braised lacinato kale, and lemon balm, complementing the perfectly seared halibut.
Pitas: A Mediterranean Delight
For a handheld delight, our pitas offer a burst of flavors in every bite. Explore these mouthwatering options:
1. Chicken Shawarma: Indulge in the succulent flavors of sumac onions, greens, and harissa aioli, all tucked inside a warm pita alongside crispy Kennebec potato chips.
2. Slow-Roasted Lamb: Experience the rich spiciness of zhoug, sumac onions, and herbed labneh, perfectly balanced with tender slow-roasted lamb and accompanied by Kennebec potato chips.
Whether you're looking for a quick bite or a complete meal, our diverse to-go menu offers something to satisfy every palate.
Tock Party Packages: Elevate Your Gatherings
Planning a special event? Meso's Tock Party Packages have got you covered. Experience the flavors of the Mediterranean while enjoying the convenience of a well-curated menu designed for celebrations. Contact us to explore the party packages and customize your event with Meso's culinary expertise.
Bring the vibrant flavors of the Mediterranean to your doorstep with our enticing lunch to-go offerings and Tock Party Packages. With a diverse menu featuring small plates bursting with flavor, satisfying lunch plates, and mouthwatering pitas, we can't wait to help make your meal one to remember. Embrace the convenience of online ordering and experience the art of Mediterranean cuisine from the comfort of your home.
Visit here to embark on a flavorful adventure with us at Meso!